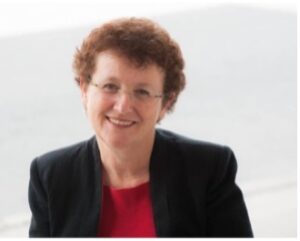 Clarissa Brocklehurst, a water, sanitation and hygiene (WASH) specialist and Water and WASH Futures Facilitator, has a wealth of WASH expertise to share. She spoke to WASH consultant Isobel Davis about her views on what happened with WASH and the COVID–19 Pandemic during 2020.  This interview has been condensed and edited for clarity.
Q: What impact has the COVID-19 pandemic had on mindsets and actions around WASH?
Clarissa Brocklehurst: The thing people jumped onto right away was the fact that there is a link between COVID-19 and handwashing. With all the work that had been done on how to promote handwashing effectively, everybody discovered that the knowledge was in our back pocket. And so, the resources were rolled out quickly.
At the same time there was a growing realization that dealing with the pandemic was going to be particularly difficult for people who don't have water on premises. If people have to carry water home, then they are less likely to bring enough water to practice handwashing effectively. And they're putting themselves at risk by going to and standing around at handpumps and standposts.
That makes the pandemic a huge opportunity for people to really push for the SDGs' ambition of water on premises. We shouldn't be satisfied with the rural community hand pump as an acceptable level of service. I think COVID gives us a real opportunity to say, "this is a nice interim measure but not good enough".
Q: Has there been an increase in the perceived importance of WASH or has the pandemic been a distraction?
Clarissa Brocklehurst: On one hand, the World Bank, WHO, UNICEF and others are pointing out that every pandemic has a WASH link. With COVID, as a respiratory disease, it is a handwashing link. In the next one, because there will be another one, the link will be something else, such as faecal-oral transmission.
But on the other hand, particularly at the beginning of the pandemic, people were more focused on interventions such as ventilators and Personal Protective Equipment (PPE), and WASH people had to jump up and down to make sure that WASH was included in the response. I was surprised by how much we had to make the case for investment in WASH.
Perhaps this is because WASH infrastructure has a long lead time and is difficult to retrofit. You can chuck PPE out of helicopters if you need to. But if you don't have piped water, you're in trouble when it comes to handwashing, and piped water is a ten-year lead in time. By the time you turn on a tap it's because somebody made an investment decision five or ten years ago. And so, at the time you realise you need it, it's a bit late. Now we have the chance to say "let's make the long-term investment decisions now because we know this is a non-negotiable".
Q: What impact have world leaders promoting WASH, such as in the UK, France and developing countries, had on hygiene promotion?
Clarissa Brocklehurst: It mainstreamed handwashing as something that everybody needs to do no matter where they are. I also think that it's taken handwashing out of the realm of being something you only teach to children.
My point was that we always infantilize handwashing, and now we have adults singing happy birthday songs as they wash their hands. For many people in the WASH sector this is nothing new, but at least it is more mainstream.
JMP and GLAAS both released special reports in 2020 on hygiene in the context of COVID. The story is terrible: the vast majority of the world's population doesn't have a place to wash their hands. Handwashing facilities in schools and healthcare WASH facilities are limited.
Q: Have you seen progress in WASH partnerships within the sector and with others, for example with the health sector?
Clarissa Brocklehurst: I think a lot of people have shown a huge willingness to collaborate;  for example the big organisations such as WHO, UNICEF and the World Bank have been speaking often and working together on resources.
Regarding WASH in healthcare facilities, WHO and UNICEF have been saying for years that WASH in healthcare facilities is terrible. Now, with all the pressure on healthcare facilities as a result of the pandemic, comes the realisation that health personnel cannot wash their hands, which means they are at risk. I think we really need to push the idea of WASH as a form of PPE.
We may see a dip in interest in handwashing as a COVID-19 response because of the focus on aerosol transmission, which has meant a lot of people have switched their focus to wearing masks. Yet handwashing remains crucial, particularly in health care settings. I think the WASH sector should be thinking about how we are going to reanimate people's interest in handwashing [as the pandemic continues].
Q: In which direction(s) do you see progress on WASH heading, particularly in terms of resilient services and behaviours, as the pandemic enters its second year?
Clarissa Brocklehurst: We really have to work on the idea that WASH is an embedded part of the pandemic response and preparation for future pandemics. We need to work with our health colleagues, our infrastructure colleagues and others, not to always have to knock on their doors but for them to be knocking on ours.
WASH investments can be significant, and WASH takes a lot of time to put into place. But it's absolutely fundamental.
Q: What are you excited about discussing or learning about at the WASH and COVID-19 Symposium, and why?
Clarissa Brocklehurst: The COVID-19 pandemic is not like anything we have experienced in our lifetimes. But this is not going to be the only pandemic, so, what can we learn from this one? There is going to be a worse disease out there. How do we use COVID-19 as a dress rehearsal?
I also think there are lessons on the way we collaborated on COVID-19 in terms of the  potential for collaboration on climate change.
I believe the online format of the symposium is a fantastic opportunity to have a multitude of voices and I am looking forward to connecting with practitioners from diverse settings.
Clarissa Brocklehurst is the facilitator for the upcoming two panel sessions: on 21 April "The Global WASH Response to the COVID-19 Pandemic – Did we get it right?" and on 22 April: "The COVID-19 Pandemic and WASH inequalities – what can we learn?".
For more information on panel sessions or to register please click here.